AEM's Instructional Materials 2020-21 Impact
May 10, 2021
Let Us Help
LA-AEM's Instructional Material Center is here to support students who are blind or visually impaired. We offer many services that support students, teachers, and their families.
LA-AEM's Instructional Materials Center Impact 2020-21
The instructional Materials Center team was busy during the 2020-21 school year. Our team processed 379 materials requests this past year. These requests contained 3736 items for textbooks, educational materials, and equipment. We create braille and large print books at the center. This year we produced 626 braille books and 939 large print books.
Shipping and producing materials may have been a big part of what we did last year, but we still did more. We provided training this year through webinars and in-person. Our 2nd Annual Click or Treat Conference had 425 registrants. We offered 6 virtual sessions that covered CVI, technologies for the Blind/Visually Impaired, and strategies to support student learning. Our Lunch & Learn series had dedicated training for Teachers of the Blind/Visually Impaired. Topics covered this year included Braille Blaster, tactile graphics, and product training.
Nabiha M. was an APH Scholar for 2020-21. In her role, she served on the Advisory Committee for APH, participated in the Annual Trustee Virtual Meeting, developed training on Tactile Algebra Tiles, and was chosen to speak on APH's Podcast "Change Makers".
Staff from the Instructional Materials center also traveled across the state to provide support with technology and materials. We had a technology day with LightHouse for the Blind scheduled for one Friday a month. Kyle worked with Buffy and her team to support the technology needs of her students in the New Orleans area. Nabiha and I supported the teachers with training on BrailleBlaster. New Orleans was just one of the places we provided support this year.
We are all about Braille! LA-AEM's Instructional Materials hosted a virtual Braille Challenge in 2020-21. We had students competing across the state virtually. LSVI was able to host an in-person Braille Challenge, while IMC's staff supported students virtually. The Braille Challenge Awards presentation was held virtually. We had record viewing of the presentation with well over 1500 views on our social media platform.
2021-22 is starting with a bang. The KLAS online ordering system is here. Teachers recently received their logins and passwords so they can begin ordering online. Here is the link to place orders for your students: https://limc.klas.com/login.jsf
We are looking forward to supporting you and your students this coming year.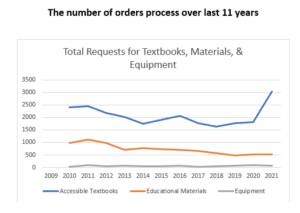 Book Orders
2009-2010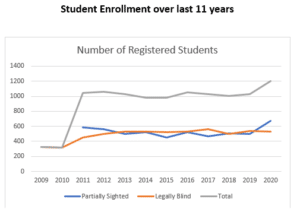 Student Enrollment
2009-2020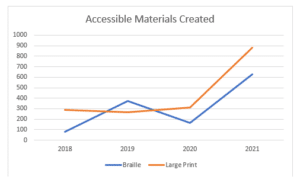 Materials Created
2018-21